MSM Advocacy Support for Montessori Schools and Teachers in MA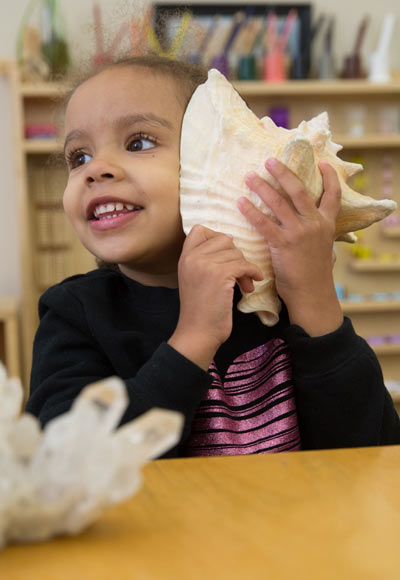 Validation Survey – December 2018

Dear Montessori Schools in Massachusetts,

The Montessori Schools of Massachusetts, your state organization for the support of Montessori education in our state, has some exciting news to share with you. MSM is considering creating and implementing a state Validation Project for all schools who wish to participate and are asking for your input.

A MSM Validation Project would provide a self-regulated measure of accountability for Montessori schools with several benefits. Parents can recognize that validated schools include those baseline, threshold, essential components of Montessori education. Schools can a demonstrate their inclusion of those baseline, essential components. State agencies can be assured that a validated school is including all baseline essentials.

The project is voluntary and all Montessori schools in the state can choose to participate. The Project will be offered by fellow Montessori educators volunteers who understand the value and benefit of such a program for our schools.

The MSM board is working proactively on your behalf to support, protect, and defend quality Montessori education in our state. We are excited to be able to offer this program to our schools. If you have questions about the project, please feel free to contact us at:

This is your project and your state organization, and we look forward to your feedback on this valuable project.

The Validation is based on threshold essential components of Montessori education. These threshold, baseline components provide a foundation, a starting point, while recognizing the rich diversity of Montessori schools in our state.

Now, we would need your input! Please take 4 minutes to respond to these 11 items by clicking agree or disagree. Responses will be tabulated, and we will share the results with you. We are asking that you return your completed survey no later than January 11, 2019.

Take this survey
Thank you so much for your vital contribution to this project. Together we are united, in one voice, representing Montessori education in Massachusetts.

Your MSM Board


---
MSM Credential Recognition Announcement – June 2018

FAQ for MA EEC Recognition of the Montessori Credential
Templates for Request of Transcript, Request for Verification, Request for Equivalency of Transcript

MSM Credential Recognition Announcement – May 2018

We are very pleased to announce that the MA Department of Early Education and Care will now be recognizing the Montessori credential from a teacher education program accredited by the Montessori Accreditation Council for Teacher Education (MACTE) for Lead Teacher in our state.

Your MSM Advocacy Committee, with guidance from Christine Lowry of Montessori-Now, has worked with the Professional Quality Unit of EEC to collaborate on this effort. This department, as well as the QRIS department and the commissioner's office have demonstrated their commitment to working with the Montessori community in many ways. We appreciate their efforts and look forward to continued work with them.

To receive your letter of recognition from the PQ department, start at the EEC Professional Qualifications Certification Application Status page.

https://www.mass.gov/service-details/eec-professional-qualifications-certification-application-status

Follow these steps:

1. Print and complete the application.

2. Contact the Montessori program where you earned your credential and request a transcript of coursework, and verification of your internship. Your transcript must indicate that you completed a course in Child Development. When you have received this transcript from your program...

3. Email MACTE at info@macte.org to request a verification of your credential. Provide your name, the name of your program, and the year of your credential. When you receive verification from MACTE…

4. Copy your Montessori credential.

5. Send the paper copies of your application, your transcript, your credential, and your MACTE verification to:

Department of Early Education and Care- PQ Unit
51 Sleeper Street, 4th floor
Boston, MA 02210

We will be creating templates of the above letters for teachers to use and will post them on our MSM website in the near future.

In the meantime, for additional information, click on the link above and scroll to the right side of the page to: "EEC Professional Qualifications Certification Eligibility and Qualification." You will find that Montessori is listed on page 7.

We would like to give huge thanks to Rebecca Pelton, Executive Director of MACTE, for making the verification process possible. However, if your Montessori teacher education program was not accredited by MACTE when you completed your credential, please contact your program, or affiliate (AMS, AMI, MEPI, IMC, other) for the process you must follow.

MSM is excited with this significant success on your behalf. We will continue our efforts to support high-fidelity Montessori education in our state. We welcome your feedback, comments, questions, and sharing of concerns as we move forward together with a strong, united Montessori voice.

Thank you,

MSM Advocacy Committee and

MSM Board of Directors

Advocacy Update – December 2017

The Montessori Schools of Massachusetts is proud to share our latest advocacy initiatives with you. Our Advocacy Committee has worked diligently on your behalf to support Montessori education and schools in our state.

Over the past several months, we have continued our work with our consultant, Christine Lowry of Montessori-Now. Our focus has been on gaining recognition of the Montessori credential within the Professional Registry. Although the Montessori credential is mentioned in the documents from Professional Registry, the information regarding hours and requirements is incorrect. We have created a document with the correct information and have been able to share this information with MA EEC Commissioner Tom Weber, and members of his staff. We continue to have ongoing communication with the Commissioner's office with the assistance offered by Christine.

As the MA EEC QRIS is changed, we continue to monitor the impacts this program might have on Montessori programs. Members of our committee are attending regional workshops, and participated in a department webinar on October 20. We sent out suggestions for responses to the QRIS survey to all our member schools in November. We will communicate with you as we have updates and action items for you to participate in.

Advocacy is a slow, steady process of hard work that requires patience, flexibility, and good old grace and courtesy. Your MSM board is committed to this process and is proud to be the one voice for all Montessori in our state. Thank you for your support, your feedback, and continued involvement with the Montessori Schools of Massachusetts.

We hope that you will join our panel discussion during the MSM conference in January!

The MSM Advocacy Committee

The Montessori Schools of Massachusetts Advocacy Committee continues its work to support Montessori education and programs on behalf of all Montessori schools in the state.

With our consultant, Christine Lowry*, we have engaged in ongoing conversation with MA EEC Commissioner, Tom Weber, and members of his department, with the goal of gaining recognition of the Montessori credential in the MA Professional Registry. We are also closely monitoring the changes and latest developments with the state QRIS. We will communicate with you regularly with updates and any Action Items.

Our goal is to have a unified voice representing all Montessori schools of Massachusetts when advocating to the state for the QRIS rating of Montessori schools and teachers. While we encourage schools and teachers to pursue QRIS qualifications with their state licensor, we ask that any advocacy for the recognition of Montessori schools and/or teacher qualifications be coordinated through the MSM Advocacy Committee.

The MSM Advocacy Committee is a group of volunteers who are working with the MSM Board of Directors and Christine to support the values, and philosophy of Montessori education and the rigor of the Montessori teacher credential in the context of MA EEC QRIS. Our committee members include:

Members:

Laurel Zolfonoon – committee chair, MSM board member, Head of School Concord Montessori School
Debbie Jernegan - MSM board member, Head of School Vineyard Montessori School
Martha Torrence - MSM Board President, Head of School Summit Montessori School
Consultant: Christine Lowry, co-founder of Montessori –Now. She is engaged in numerous advocacy projects impacting Montessori Education at state levels.

For questions or to learn how you can help, contact the Advocacy Committee at


---
QRIS Updated January 2017
Brief Summary:

The Montessori Schools of Massachusetts has initiated action to advocate for Massachusetts Montessori schools in regards to the QRIS ratings and teacher qualification recognition. The MSM Board has contracted the help of Christine Lowry who has successfully accomplished such advocacy in several states. The MSM QRIS Taskforce is a group of volunteers who are working with the MSM Board of Directors and Christine for to advocate the recognition of Montessori schools and teacher credentials by the state in consideration of its QRIS ratings.

Our goal is to have a unified voice representing all Montessori schools of Massachusetts when advocating to the state for the QRIS rating of Montessori schools and teachers. While we encourage schools and teachers to pursue QRIS qualifications with their state licensor, we ask that any advocacy for the recognition of Montessori schools and/or teacher qualifications be coordinated with us.

The details:

The Montessori Schools of Massachusetts has initiated action to advocate for all Montessori schools in Massachusetts in regards to the QRIS (Quality Rating and Improvement System) and teacher qualification recognition and licensure program in our state. To assist us with this process, the MSM Board has recently contracted the experienced support and guidance of Christine Lowry. Christine Lowry, MEd, is the co-founder and head writer of Montessori -Now. She is engaged in numerous advocacy projects impacting Montessori Education at the national and state levels. She has worked with the national Montessori Public Policy Committee, and has consulted for AMS on several projects focused on public policy. Christine holds an AMS credential in Early Childhood. Christine's efforts in assisting other states' organizations, similar to MSM, to advocate for policy changes at the state level have been very successful. We look forward to her work with our MSM QRIS Taskforce.

The MSM QRIS Taskforce is a group of volunteers who are working with the MSM Board of Directors and Christine. The Taskforce will be working with Christine Lowry to support the values, ideals and philosophy of Montessori as they together review the impact of the QRIS national rating systems on our schools, and to provide advocacy that will recognize the value of Montessori teacher certifications within the state credentialing system.

Our goal is to have a unified voice representing the Montessori schools of Massachusetts when advocating to the state for the QRIS rating of Montessori schools and teachers. The MSM QRIS Taskforce's first communication will be asking all Montessori schools in Massachusetts to assist us in the collection of demographic information about our schools. These specific details from all schools will inform our future discussions with state QRIS personnel. By providing them with our collective data about of the number of Montessori schools, families, children, programs, and faculty, we provide them with important information about the impact of a Montessori education on children throughout Massachusetts. While we encourage schools and teachers to pursue QRIS qualifications with their state licensor, we ask that any advocacy for the recognition of Montessori schools and/or teacher qualifications to be coordinated with us.

The Taskforce looks forward to the work with Christine Lowry over the upcoming months and will keep you informed of our progress through the MSM website. The following is a quote from Montessori–Now.com that speaks to the Taskforce's upcoming efforts on behalf of all Montessori schools in Massachusetts.

"Our work is to present ourselves as unified, thoughtful, professionals who share the goals of high quality, safe and healthy, educational experiences for all children." Montessori-Now