MSM Annual Conference January 28, 2023
2023 MSM Annual Conference NOW open for Registration

30 Years of Connecting Montessori Schools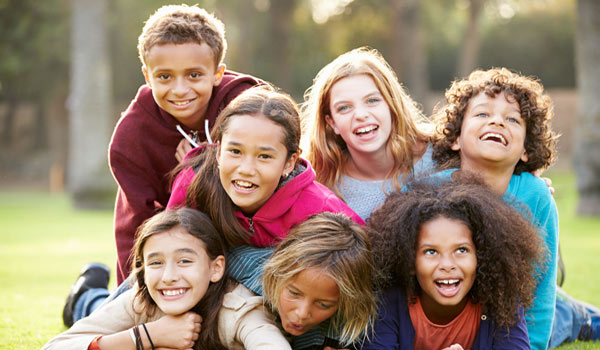 For more than 30 years MSM has been pleased to offer a high-quality conference experience for schools in the Massachusetts area. This year, to accommodate the AMS Event being we are offering an affordable, virtual conference platform. Our conference, Virtual, Vital, Valuable, will feature: a highly regarded Montessorian as our keynote, live workshops, topics of interest roundtable discussions, a virtual vendor space, and more.

The most important part of attending the MSM Annual Conference is the valuable information you take home to your community. The ideas and strategies you learn from workshops, roundtables, speakers, and exhibitors can be implemented back home in your own school.
---
Virtual, Vital, Valuable
We may be virtual this year but MSM has still put together a conference that will provide the same high-quality, timely, and valuable programming that we have become known for.
Renown keynote speaker!
Presenters who have made a significant impact with their work
Affordable and excellent value
Interactive, easy to navigate, virtual platform
Networking opportunities
Virtual vendors space
Professional development hours
---
Registration
Pricing
Member Regular Registration Rate – $70.00 - MSM member schools were sent their discount code via email. If you are a member school in need of the code please email .
Non-Member Registration – $90.00
New this year! Members who register 10 will receive one free
---
Call for Presenters
MSM is seeking Montessorians and related professionals who are doing innovative quality work and who are ready to share their expertise during the January 28, 2023 Virtual Annual Conference.

Past Presents have offered these thoughts on a few ways "stepping up" to offer a workshop pushed their professional boundaries:
Sharing a deep interest with others can help you grow your confidence to share your expertise beyond your school
Planning to share your expertise with your colleagues offers you the next level of organizing your pedagogical theory that underpins your topic; offer you the opportunity to validate from your classroom efforts how this topic has impacted your students' learning; and offers you the opportunity to translate these messages to adult learners in a way that engages them in real time learning
Recognition for the work being done at your school comes when you step out of your school environment and provide colleagues with an opportunity to engage in a topic they chose to better understand and take back to their school environment
We hope you will take time to reflect on a topic that has sparked your imagination and expertise and that you are ready to share with others. We look forward to reading your application for the 2023 workshop sessions!
Thank you for your interest in submitting a workshop proposal. We have already chosen our workshop for the 2023 conference, and will begin to take proposal submissions for 2024 in early spring.
---
Schedule for the Day
9-9:15, Welcome from MSM (Annual report from committee included here)
9:15-10:30, Keynote
10:30-10:40, Break
10:40-11:40, Morning workshop
11:40-11:50, Exhibit hall visits
11:50-12:20, Roundtables
12:20-12:30, Break
12:30-1:30, Afternoon workshop
---
Thank you to Our Conference Sponsors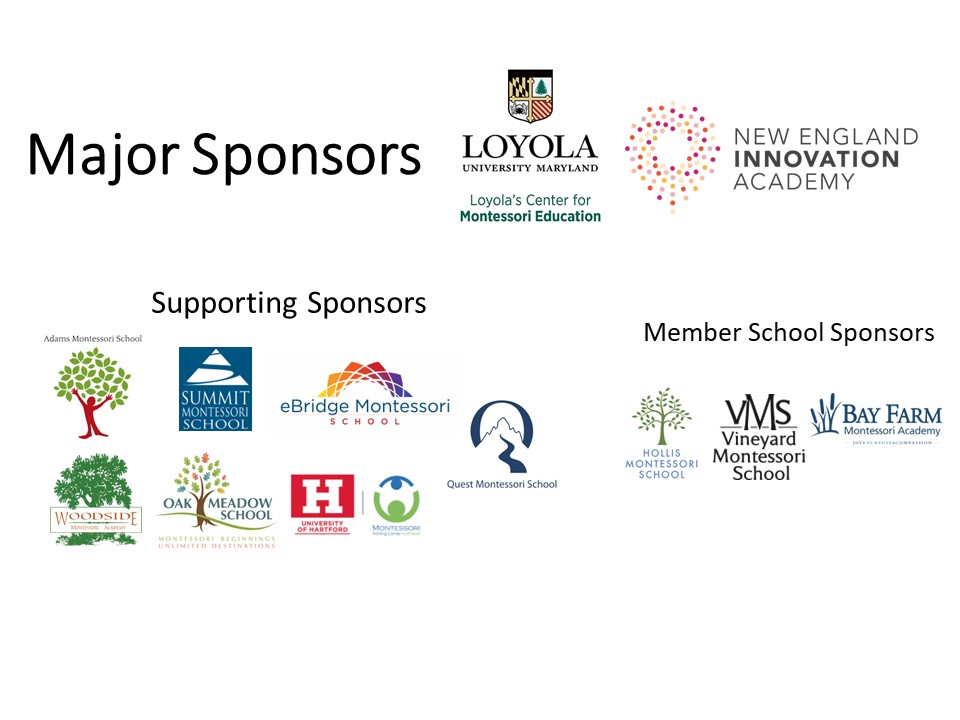 ---
Keynote Speakers for 2023
Keynote Address: Education for Life: Be the Adult that every Child needs!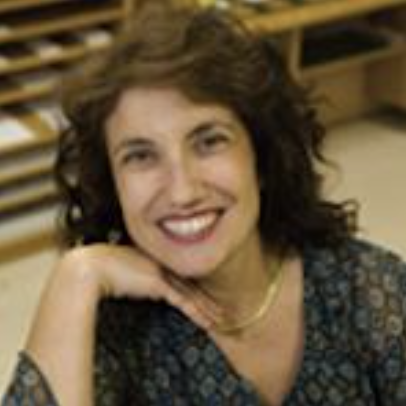 Presenter:
Sandra Girlato - AMI Primary Director of Training
Biographical Information:
Sandra Girlato holds a Bachelor of Science degree in psychology, English and fine art history from the University of Toronto, a Master's Degree in Education from Loyola College, as well as an AMI diploma at the Primary level. Sandra worked with children aged 3 to 6 in a Montessori Casa prepared environment for several years. She is currently the Director of Training at the Foundation for Montessori Education in Toronto, a past member of the AMI Scientific Pedagogical, Materials and Translation Committees, an AMI examiner, as well as a consultant, lecturer and parent educator. Sandra was trained by Mrs. Renilde Montessori, Dr. Montessori's youngest granddaughter.
Presentation Description:
The Montessori adult truly has the potential to serve all of humanity because she follows a philosophy that calls her to give, "every human being the help he needs to bring about his fullest spiritual stature...helping those energies that are at work to bring this about. This perhaps, will be the basis on which society will be organized in the future." (Maria Montessori)
---
Annual Conference 2023 Workshop & Roundtable Descriptions
Morning Workshops
Workshop Title:
The need for "heavy work" in the toddler environment
Presenter:
Abby Zimage
Biographical Information:
Westfield State University B.A., AMS 0-3 trained from Northeast Montessori Institute, EEC Lead Teacher certified, 7 years experience in a Montessori toddler environment
Target Level:
Infant/Toddler
Presentation Abstract:
This workshop will provide why toddlers need "heavy work" in the classroom and the power it has to help with self regulation. The learners will receive ideas for heavy work they can use in their classroom, they will find out the "science" behind why it's so beneficial, and they will learn when to introduce heavy work to a toddler. This presentation will include a PowerPoint, videos, and an opportunity to share ideas and ask questions. This presentation is open to learners of all experience levels.
Read about additional workshop options
---
Workshop Title:
Are you ready? Accepting rising toddlers
Presenter 1:
Hiro Sudachi
Biographical Information: Hiro Sudachi is the Director of the Infant Toddler Program at Harborlight Montessori in Beverly Massachusetts. She is also a teacher education instructor at Montessori Institute​ of New England. She holds a Master's in Early Childhood Education from Boston College and is a credentialed Infant Toddler Montessori educator. She is passionate about advocating for infants and toddlers and supporting parents through parent education programs.
Presenter 2:
Jamie Oakley
Biographical Information: Jamie has been a lead teacher in Children's House at Harborlight Montessori in Beverly for over 20 years. She is an instructor at Montessori Institute of New England. She holds credentials in Early Childhood through the National Center for Montessori Education-New England, a Master's Degree in Early Childhood with a focus in Montessori, and an Ed S in Reading.
Target Level:
Infant/Toddler, Children's House
Presentation Abstract:
This workshop will focus on the topic of transitioning toddlers into early childhood (3-6) classrooms. The workshop will unfold key items to be considered when transitioning the children such as timing, classroom environment, classroom dynamic, preparedness of teachers, communication with parents, and meeting the child/class's needs. The presenters will discuss scenarios of challenging situations that may arise when transitioning to the 3-6 environment. Workshop attendants will leave with specific ideas about creating a welcoming environment for rising toddlers and making their transition as smooth as possible.
Transitioning toddlers to the early childhood classrooms should be a positive experience for children, yet it involves many factors that need to be considered to make it successful. In this workshop, you will learn to identify your challenges and leave with ideas about 1. what additional support your need in your classroom 2. what strategies you can use to make the transition smoothly 3. effective communication amongst adults who are involved in making the decisions 4. how to prepare the environment and individuals that welcome rising children.
This workshop is designed for Infant & Toddler teachers, Early Childhood teachers, Teacher Educators, and Administrators. The presenters will use slides and ask a few key questions during the workshop to keep attendees engaged in the workshop. There will also be a Q & A at the end of the workshop."
---
Workshop Title:
Not all who wander are lost: Developing the child's moral compass
Presenter:
Rupali Sharma
Biographical Information: Rupali Sharma, a Montessori student, mother and educator, is trained as an architect and now runs The T.E.C. Schools-Think. Explore. Create, in Worcester. She is passionate about education and started Imagination Unbound and The T.E.C. Schools, two educational organizations, that lay early foundations for creative thinking and problem solving through hands-on learning experiences. Her training as an architect taught her to create the big picture for large projects and identify detailed steps for bringing projects to fruition. She applies this technique in business management too. Leveraging the Montessori Philosophy, Rupali works with organizations to create the ideal 'work environment' to set the stage with resources and challenge individuals to achieve high standards. Rupali is a mentor to many women and coordinates a Meetup for women entrepreneurs and professionals in Worcester.
Target Level:
Elementary, Adolescent
Presentation Abstract:
Tolkien's famous quote reminds us that those who pursue goals gain knowledge and are happy. Montessori, too, reminds us that purposeful work is the key to happiness. "Who Am I?" This is the quest of the elementary and adolescent child. How can you inspire students in the second and third planes of development to develop their moral compass? What do the 7-15 year old students need in order to find their anchor? In this interactive workshop, you will leave with inspiring activities to help students identify their values and develop their moral code of conduct.
---
Workshop Title:
Engaging in mathematics through history and storytelling
Presenter:
Michael Waski
Biographical Information: Michael Waski has worked in both public and private Montessori adolescent communities since 2000. He holds the AMI Elementary diploma from Bergamo, the NAMTA Orientation to Adolescent Studies certificate, a BS in elementary education from Kent State University, and an MA in educational administration from California State University San Bernardino. He has written several books about teaching Montessori mathematics to adolescents, has been a lecturer at the AMI/NAMTA Orientation for Adolescent Studies since 2009, and has given talks to Montessori practitioners around the world. After working with adolescents for nearly 20 years, Michael is now the Director of the Math Institute.
Target Level:
Adolescent
Presentation Abstract:
Mathematics is not just about calculations, but it is also the story of humanity and its quest to understand and adapt to the world around us. Through studying math history, we can engage students in mathematics in a different way and appeal to a wide variety of learners. In this workshop we'll discuss the importance of history in a mathematics classroom, and share many stories that appeal to the adolescent. Teachers should leave this workshop with an understanding of where various concepts originated and the people behind these ideas, which they in turn can share with their students.
---
Workshop Title:
OBSERVATION: The Foundational Science of Montessori Practice
Presenter:
Sandra Girlato
Biographical Information: Sandra Girlato holds a Bachelor of Science degree in psychology, English and fine art history from the University of Toronto, a Master's Degree in Education from Loyola College, as well as an AMI diploma at the Primary level. Sandra worked with children aged 3 to 6 in a Montessori Casa prepared environment for several years. She is currently the Director of Training at the Foundation for Montessori Education in Toronto, a past member of the AMI Scientific Pedagogical, Materials and Translation Committees, an AMI examiner, as well as a consultant, lecturer and parent educator. Sandra was trained by Mrs. Renilde Montessori, Dr. Montessori's youngest granddaughter.
Target Level:
General
Presentation Abstract:
"Now You See It, Now You Don't: The Importance of Observation in the Montessori Environment" True scientific observation transforms information into knowledge. How can we cultivate the power of observation so that we not only look but see; not only hear but listen; not only intuit but understand; and never teach but always guide? Our ability to observe will come from practice; not in finding the ability to know everything but in our ability to know what is important. This workshop will look at why we observe, how to observe and what to do with our observations.
Afternoon Workshops
Workshop Title:
Reimagining toddler circle time
Presenter 1:
Rebecca Alukonis
Biographical Information: M.Ed in Montessori Education from Loyola University; AMI 0-3 from The Montessori Institute, Denver; Positive Discipline in the Montessori Classroom course; Presenter at the AMS 2018 annual conference
Presenter 2:
Elyse Kalins
Biographical Information: BA from Marlboro College (Creative Writing/Literature); 13 years working with toddlers in a Montessori environment
Target Level:
Infant/Toddler
Presentation Abstract:
Challenges with circle time run the gamut! In this presentation, we will discuss both the highs and lows of circle time with toddlers. Specifically, we will highlight:
The benefit of circle time for the children
The benefit of circle time for the adults
What are realistic expectations for toddlers in a circle time
Tips and activity suggestions for ""successful"" circles
How to recognize and what to do if the benefit of circle to the adults outweighs the benefit to the children
Read about additional workshop options

Workshop Title: Three powerful tools to awaken the spirit, delight the child and transform the classroom

Presenter: Liz Goodman

Biographical Information: Liz Goodman currently teaches in a primary classroom at King's Wood Montessori School in Foxboro, Massachusetts. Liz holds a Master's in Montessori Education from Xavier University and a Montessori Early Childhood Certification from Age of Montessori, Her experience as an educator spans over 20 years both as a high school teacher, and for the past 11 years, in an early childhood Montessori classroom. In addition, Liz is a faculty advisor for AIM (formerly Age of Montessori), training and mentoring adult learners working toward their Montessori teaching certification.

Presenter: Melinda Cropsey

Biographical Information: Melinda Cropsey is the Founder of Breadcrumbs, LLC, and author of the Breadcrumbs Curriculum, a Heart-Centered Social-Emotional Curriculum for children between the ages of 4-7 (2020). Melinda is the author of two children's books: A Quiet, Happy Place: A Children's Introduction to the Labyrinth (2017); and Penelope's Superpower (2018). Melinda is a certified Labyrinth Facilitator and a member of the New England Labyrinth Guild. Melinda conducts workshops for schools, libraries, and museums nationwide. She is a graduate of Trinity College in Hartford, CT.

Target Level: Children's House

Presentation Abstract: After an overview of the latest research on the role of the heart in emotional self-regulation, educators will be introduced to a heart-center breathing exercise. We will then introduce the labyrinth as a kinesthetic teaching tool for processing social-emotional concepts. Finally, we will introduce heart-centered reflection as a means of integrating social-emotional concepts using music, stories, games, and activities designed to help children identify and effectively communicate feelings, regulate emotions, reduce stress, and build a positive self-concept. The concepts throughout the presentation will be connected to the Montessori philosophy, and. how it is implemented in a Montessori Primary Classroom.
---
Workshop Title:
Making time tangible: Beyond calendars, clocks, and sand timers
Presenter:
Holly Earnest
Biographical Information: Holly has been active in Montessori spaces for more than a decade, serving as a Montessori guide, administrator, consultant, and coach. AMS-certified at the Primary level, Holly also holds an M.A. in Human Dimensions of Organizations from UT Austin and an M.B.A. from WGU. In 2017, Holly presented graduate research on business applications of Montessori philosophy at the annual AMS conference, and has also presented workshops at regional Montessori conferences in 2021 and 2022. Outside of my work in Montessori spaces, Holly enjoys spending time at home and in nature with her husband and their two young daughters.
Target Level:
Children's House, Elementary
Presentation Abstract:
Our curriculum may include time-tracking as a form of measurement, but are our students really grasping the sensorial concepts behind the tools being introduced? How can we help our young learners conceptualize and measure something they can't hold in their hands? This workshop introduces three practical, sensorial strategies for introducing young children to time, empowering children to track the passage of time on their own in meaningful ways, and supporting future exploration of time as a mathematical concept as children get older. Participants will examine their own classroom strategies for time-tracking and explore ways to incorporate new tools and/or modify existing strategies in support of their students' understanding of time.
---
Workshop Title:
Education from within: An exploration of the integration of mindful somatic practice into education
Presenter:
Kathleen Martuza
Biographical Information: Kathi Martuza, is a former professional ballet dancer, now Integrated Learning Teacher and Wellness Educator. Kathi holds a M. Ed. in Integrative Learning from Endicott College, along with a BA in Performing Arts with an emphasis in Dance from St. Mary's College. She also is a certified PEAK Pilates Instructor, Health Coach, Level II Reiki Practitioner, and True Body Project Leader. Kathi is currently enrolled in the Secondary Montessori Teacher Certification program offered through CMStep, and currently acts as a Middle School Integrated Learning Teacher and Wellness Educator at Wellan Montessori Middle School in Newton, MA. Kathi is passionate about working with youth to help them better understand their selves, their bodies, and how they relate with their worlds. Kathi enjoys connecting with her own body through a variety of movement practices including yoga, dance, and jogging, along with regular meditation. She also loves to spend time being with her husband, two children and two rescue dogs – playing, creating and being out in nature.
Target Level:
Adolescent
Presentation Abstract:
This workshop is intended to be an exploration of the integration of mindful somatic practices into the education of youth. Mindful Somatic Practices integrate the body, mind and spirit and allow the participant to experience, acknowledge and reflect on their first person experience of being in their body, in their world. Mindful Somatic Practices have many benefits, including relaxation and healing, calming of the Central Nervous System and contributing to the cultivation of healthier relationships. In this workshop, participants will learn what Mindful Somatic Practices are, experience first hand the results of practicing Mindful Somatic activities themselves, and learn ways to integrate this type of work into their personal lives, and the lives of their students.
---
Workshop Title:
Creating harmony through courageous conversation
Presenter:
Cassi Mackey
Biographical Information: Cassi Mackey, M.Ed. is passionate about helping communities create identity-safe spaces where people are encouraged to make changes to improve relationships. Cassi has witnessed the transformational power of communities that engage in Courageous Conversation, Collaborative Coaching, and Diversity, Equity and Inclusion practices. It is a promise of more meaningful relationships, greater depth of experience, and a broader, more compassionate view of oneself and the world. These practices are essential in order to serve our children and the future of humanity. Cassi has been in the Montessori field for 30 years as a teacher and school leader. She is currently an American Montessori Society (AMS) School Accreditation Commissioner and is Association Montessori Internationale (AMI) School Administrator and AMS Anti-bias Anti-racist certified. She consults with and provides advice to Montessori communities that are intent on generating positive and lasting change.
Target Level:
General, Administration
Presentation Abstract:
Learn how to integrate open and honest communication into the culture of your school to the point where the expression of concerns is expected, required, and desired by everyone. We will discuss how to ensure all voices are heard, while building a sense of belonging, which will improve the community's well-being, civility, and prosperity. We will focus on building the skills necessary for engaging in difficult conversations with others while maintaining the integrity of the relationship, and creating shared agreements to support a culture of honest talk.
Roundtable Topics
Roundtable Topic:
Cooking it the Montessori way
Moderator:
Anju Ramakrishnan
Moderator Biographical Information: Anju Ramakrishnan holds a Master's Degree in Business Administration from Ecole des Ponts, Paris, AMS Primary Credential, and extensive professional development in adult learning theory and training.
Anju received her AMS certification in 200? and has held various roles in teaching and leading in Montessori environments. She is co-founder and Assistant Head of The Taylor School in Metrowest Boston. Anju is a local celebrity chef and blogger specializing in healthful Indian cuisine and makes cooking from scratch a joyful and accessible experience. When she is not delighting folks with her colorful dishes and online cooking events for adults and children, she enjoys gardening, travel, and time with family.
Target Level:
Infant/Toddler, Children's House
Read about additional roundtable topics

Roundtable Topic: An environment of belonging

Moderator: Castle O'Neill

Moderator Biographical Information: Castle O'Neill is a Montessori coach and consultant supporting parents, teachers and schools. School founder and an early leader within the Wildflower network of schools, Castle has supported teachers, administrators and schools in all aspects of development. Currently based in Amherst, MA, Castle has been a teacher trainer and leader of professional development for training programs throughout the US and founded the VA Center for Montessori Studies. Castle has presented nationally at AMS, MACTE and Montessori for Social Justice conferences. BS, VA Commonwealth University, Psychology; AMS credentialed (Early Childhood, Infant/Toddler)

Target Level: General, Administration
---
Roundtable Topic:
Reconsidering our approach to sustainability in the Montessori classroom
Moderator 1:
Sinead Meahan
Moderator Biographical Information: Sinead Meehan is a doctoral candidate at Drexel University, adjunct professor, and ELI instructor for West Side Montessori School's Teacher Education Program and the University of Delaware's Montessori Teacher Residency Program. Before starting her PhD program, Sinead gained eight years of experience teaching 1st-7th grade in both private Montessori and traditional public schools. She holds a MA in Education from St. Catherine University and a BS in Early Grades Education from West Chester University. AMS-Credentialed (Elementary I) and PA-State Certified (PK-9th).
Moderator 2:
Monica Blaisdell
Moderator Biographical Information: Monica Blaisdell is a doctoral student at Drexel University. Before starting her PhD program, Monica served as an undergraduate academic advisor and course instructor at SUNY College of Environmental Science and Forestry. She holds an MS in Environmental Science from SUNY College of Environmental Science and Forestry and two BAs in Philosophy, Politics and Law, and Environmental Public Policy from Binghamton University.
Target Level:
Elementary, Adolescent
---
Roundtable Topic:
Parents! Mastering the relationship, for the benefit of all!
Moderator:
Renee DuChainey-Farkes
Moderator Biographical Information: Please join us for a conversation with Renee DuChainey-Farkes. Renee was most recently the head of school at The Woodward School just outside of Boston, Massachusetts. Prior to joining the Woodward School Renee was the founding head of school at Kingsley Montessori School in Boston which started with 65 students and grew to an enrollment of more than 325.
Renee is now working as a coach, consultant, and advisor to independant schools, both private and Montessori, looking at ways to further partner with parents and school communities. She also wrote 'Learning from Home' for the fall 2020 issue of The Yield.
Target Level:
Administration, General
PRESENTATION MATERIALS
In response to member comments after the 2008 Annual Conference we have created this section of the site for Keynote and workshop handouts and PowerPoint presentations. Presenters will be given the option to post their information here either before or after the conference date. All materials are provided in PDF, which can be viewed with Adobe Reader.
2023 Presentation Materials
Presentation materials will be posted as we receive them.
---
CONFERENCE CANCELLATION/REFUND POLICY
Refunds will be granted if the request is made in writing by December 26. Refunds after that date will not be considered.